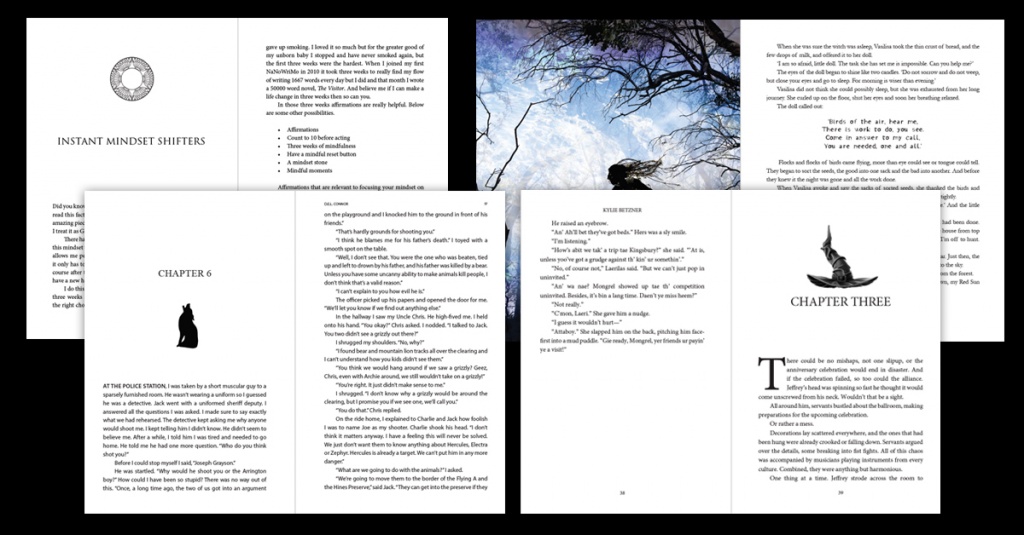 Getting started
To get started we will need your fully edited book as a Word-document. If you would like any of the text italicized or bold, please format it as such in the text document so we know to incorporate it into the design.
The design process
Your book will be laid out as follows:
Title Page: Announces the title and subtitle and reflects the cover design.
Copyright page: Appears on the back of the title page – carries a copyright notice, publication information, legal notices and cataloguing data. Credits for design, production, editing and illustration are listed here as well.
Dedication: Optional
Table of contents: Optional
Beginning of book: All of the front matter, the first chapter, and any section or part beginnings (with the exception of the copyright page) will fall on the right-hand side of the book. Subsequent chapters being on the left or right – unless you request them to all being on the right side.
The design process takes 1 to 2 weeks depending on the amount of work we currently have scheduled. If you're in a rush, let us know!
Final delivery
You will receive a print-ready PDF and two ebook files (epub and mobi). Your first proof will be in PDF format only. Please look through carefully and note any amendments. Please send amendments in a way that makes the change very clear – for example: Page 4, paragraph 2 changes "finds" to "found".  The next proof will be your final files – print ready PDFs and ebook files.
Payment
Payment is through PayPal.
50% is paid in advance, the remaining 50% when the formatting is approved.
Changes to editing after the formatting is done cost $50/hour.
Have any questions?
Please don't hesitate to e-mail us at contact@amygdaladesign.net